Seattle Municipal Archives Audio Collection
---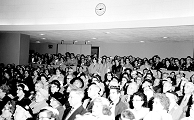 This index describes selected audio recordings in the Seattle Municipal Archives available for research use. Most recordings indexed to date are of full City Council meetings, Council committee meetings, and public hearings, and date from 1963 to 1977 and from 2002 to the present.
Transfer of analog audio to digital copies continues on an ongoing basis with more digital copies being made available each month. Selected audio recordings, primarily from 1977 and 2002 to the present, are available and searchable through the Washington State Digital Archives using Audio Search, an innovative speech-to-text indexing and search capability. From the search screen at http://www.digitalarchives.wa.gov/Search choose "Audio Recordings" for the record series and "Seattle City Council Audio Recordings" for the title. You will be able to search by key word and/or committee name.
Selected audio recordings are available in the exhibit space "Seattle Voices." http://www.seattle.gov/CityArchives/Exhibits/voices.htm
Please contact the Archives to request copies of audio content for meetings not yet available online.